The first full season of the Sugar Cayne Bike Fest is now in the history books! Below is the full list of results from our last stop of the 2014 at Trumbull T.R.A.C.K. Congratulations to all the riders who participated in this event and all the riders who participated this season.  It's been an awesome ride and we're looking fwd to the 2015 season which may start sooner than you think 🙂
2014 sugar Cayne Bike Fest Tour Series Winner: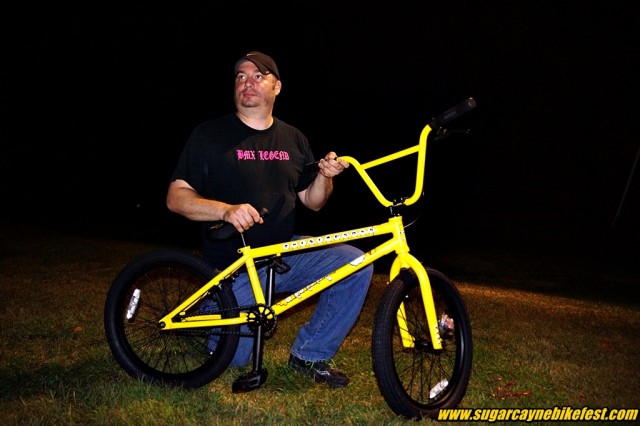 Keith Newell
SCBF Trumbull Iron Man Contest Winner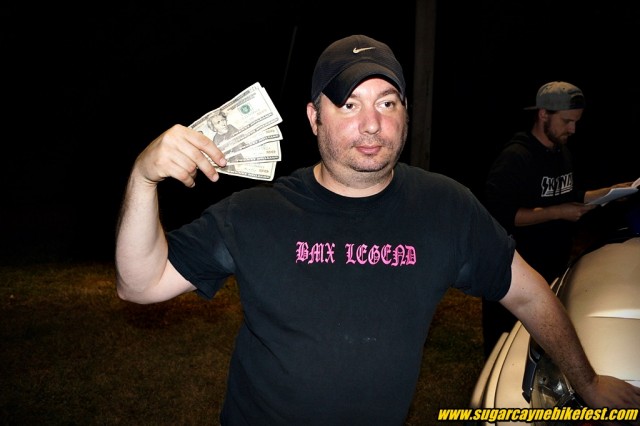 Keith Newell $100

Fastest Gate: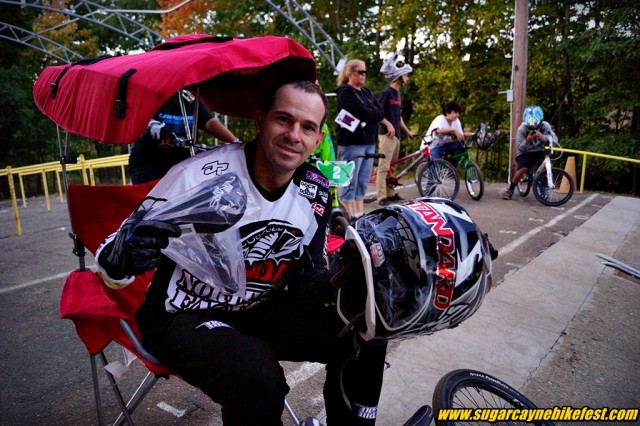 All ages competed from youngest to oldest. 5 bonus points was given to riders who had the current fastest times.

Results
| | |
| --- | --- |
| Darien McEnroe | 1st |
| Kelly Horjatschun | 2nd |
Results
| | |
| --- | --- |
| Erika McEnroe | 1st |
| Lisa Clyne | Loss |
| Renee Giese | Loss |
Last Straight Dash 35&Over Men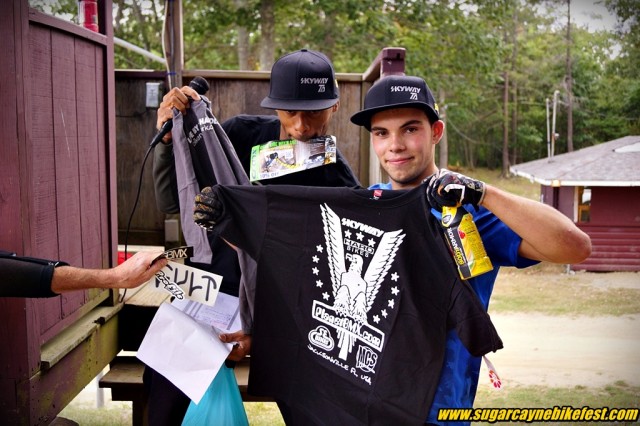 Results
| | |
| --- | --- |
| Michael Pereiro | 1st |
| Glenn Giese | Loss |
| Jason Pilato | Loss |
| Adam Nolde | Loss |
| Larry Oliver | Loss |
| Keith Newell | Loss |
Results
| | |
| --- | --- |
| Matthew Higgs | 1st |
| Ethan Russell | Loss |
| Harry Clark | Loss |
| Austin Clinton | Loss |
| Chris Aldo | Loss |
| Henry Dzwonkowski | Loss |
| Ryan Komssi | Loss |
| Justin McDaniel | Loss |
| Tyler Oliver | Loss |
| Jonathan Moura | Loss |
Results
| | |
| --- | --- |
| Chris DeAmelio | 1st |
| Mike Sigrist | 2nd |
| Keith Newell | 3rd |
| Jason Pilato | 4th |
| Larry Oliver | 5th |
| Adam Nolde | 6th |
| Lisa Clyne | 7th |
Results
| | |
| --- | --- |
| Matthew Horjatschun | 1st |
| Kelly Horjatschun | 2nd |
| Ethan Nolde | 3rd |
Results
| | |
| --- | --- |
| Matthew Higgs | 1st |
| Ryan Komssi | 2nd |
| Henry Dzwonkowski | 3rd |
| Austin Clinton | 4th |
| Harry Clark | 5th |
| Tyler Oliver | 6th |
Results
| | |
| --- | --- |
| Chris DeAmelio | 1st |
| Larry Oliver | 2nd |
| Glenn Giese | 3rd |
| Adam Nolde | 4th |
Results
| | |
| --- | --- |
| Jonathan Moura | 1st, Bonus Pts |
| Kelly Horjatschun | Loss |
| Austin Clinton | Loss |
| Chris Aldo | Bonus Pts, Loss |
| Henry Dzwonkowski | Bonus Pts, Loss |
| Ryan Komssi | Bonus Pts, Loss |
| Justin McDaniel | Bonus Pts, Loss |
| Ethan Russell | Bonus Pts, Loss |
| Matthew Horjatschun | Bonus Pts, Loss |
| Nicholas Polumbo | Bonus Pts, Loss |
Results
| | |
| --- | --- |
| Jesse McEnroe | 1st |
| Nicholas Polumbo | Loss |
Results
| | |
| --- | --- |
| Matthew Horjatschun | 1st |
| Ethan Nolde | Loss |
Results
| | |
| --- | --- |
| Keith Newell | 1st, Bonus Pts |
| Michael Pereiro | Loss |
| Chris DeAmelio | Loss |
| Jason Pilato | Loss |
| Larry Oliver | Loss |
| Glenn Giese | Loss |
Results
| | |
| --- | --- |
| Ethan Russell | 1st |
| Justin McDaniel | Loss |
| Matthew Higgs | Loss |
| Dan Gruber | Loss |
| Chris Aldo | Loss |
| Jonathan Moura | Loss |
Results
| | |
| --- | --- |
| Keith Newell | 1st |
| Michael Pereiro | Loss |
Results
| | |
| --- | --- |
| Kelly Horjatschun | 1st |
| Matthew Horjatschun | Loss |
Results
| | |
| --- | --- |
| Jason Pilato | 1st |
| Keith Newell | Loss |
| Larry Oliver | Loss |
| Michael Pereiro | Loss |
Results
| | |
| --- | --- |
| Glenn Giese | 1st |
Results
| | |
| --- | --- |
| Jason Pilato | 1st |
| Glenn Giese | 2nd |
| Mike Cain | 3rd |
| Michael Pereiro | 4th |
| Larry Oliver | 5th |
| Adam Nolde | 6th |
| Randy Komssi | 7th |
| Jonathan Moura | 8th |
| Dan Gruber | — |
| Austin Clinton | — |
| Keith Newell | — |
Results
| | |
| --- | --- |
| Matthew Higgs | 1st |
| Chris Aldo | 2nd |
| Ethan Russell | 3rd |
| Justin McDaniel | 4th |
| Shannon Cain | 5th |
| Darien McEnroe | 6th |
| Tyler Oliver | — |
| Henry Dzwonkowski | — |
Cyclocross Meets BMX 6-9(Boys)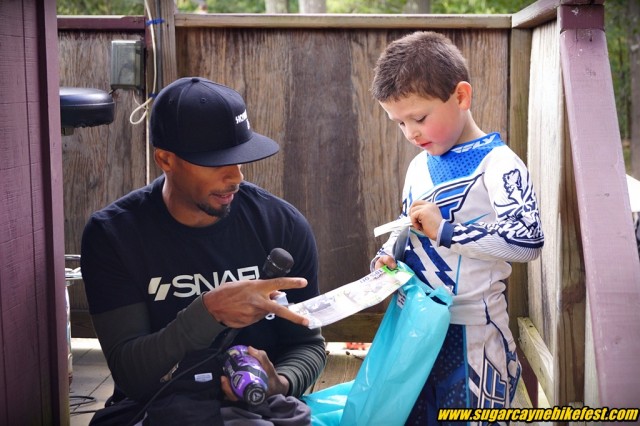 Results
| | |
| --- | --- |
| Matthew Horjatschun | 1st |
| Ethan Nolde | 2nd |
| Kelly Horjatschun | 3rd |
Results
| | |
| --- | --- |
| Austin Clinton | 1st |
| Matthew Higgs | Loss |
| Jonathan Moura | Loss |
| Justin McDaniel | Loss |
| Henry Dzwonkowski | Loss |
| Chris Aldo | Loss |
Results
| | |
| --- | --- |
| Ryan Komssi | 1st |
| Nicholas Polumbo | Loss |
| Matthew Horjatschun | Loss |