New for 2015, we added another stop in NY!! We'll be headed up to TriCity BMX for some off road cycling fun and activities
REGISTRATION:
You can do one SCBF competition for $15 or do as many competitions as you want for $30. (Gate/Track practice included)
$15 to compete in the 5 year old & Under Balance Bike/Strider competitions
There will also be a $5 Gate/track practice from 9am-11:30.
The $5 practice fee will be honored if you choose to upgrade to compete in the SCBF competitions ($10 for one competition, $25 for multiple)
Registration is from 9am-11:30
CLICK HERE to pre register
Competitions start promptly at 12pm, beginning with the Balance Bike Competitions
Registration is open all day from 9am-4pm (So if you come late to the event but the competition(s) you would like to compete in has not started yet, it's possible for you to still sign up for it)
The $30 fee also covers ANY BIKE you would like to compete with, so bring em all and use a different one for each competition!
Some competitions require a full face helmet but loaner helmets are available if needed
You can use either flat pedals or clips for this event
ALL NON USA BMX Members have the option to sign a Free USABMX 1 Day membership, $30 30 Day Trial Membership or A full membership for $60 to participate in this event  CLICK HERE FOR MORE INFO.
We will be running each competition back to back with a little breaks in between each one
AGE GROUPS: (Age groups are the same for both males and females) *Subject to change due to turn out.
5 years old & under
6-9 year olds
10-14 year olds
15-34 year olds
35&Over
Below is the list of the SCBF competition sub series:
King Of The Hop
King Of Fat Bikes
King Of Cross
King Of MTB
BMX King
Queen Of The Hop
Queen Of Fat Bikes
Queen Of Cross
Queen Of MTB
BMX Queen
Balance Bike Jedi
Bike Relay Masters
Iron Man*
Iron Woman*
All points gained in competitions specific to the MTB, BMX, Cyclocross, Balance, Hop and Fat Bike categories will go towards the sub series total points for each rider. The top three riders in each sub series will be awarded.
Competitions Under the  KING/QUEEN OF THE HOP series: 
BMX High Jump
BMX Bunny Hop
MTB High Jump
MTB Bunny Hop
Fat Bike High Jump
Fat Bike Bunny Hop
Fat Bike Long Jump
Cyclocross High Jump
Cyclocross Bunny Hop
Cyclocross Long Jump
Bunny Hop Long Jump
Fixed Gear Bunny Hop
Fixed Gear High Jump
Competitions Under The KING/QUEEN OF FAT BIKES series:
Fat Bike High Jump
Fat Bike Long Jump
Fat Bike Bunny Hop
Fat Bike 8x Race
Fat Bike Last Straight Dash
Fat Bike Fastest Gate
Fat Bike Longest Skid
Competitions Under The KING/QUEEN OF CROSS series:
Cyclocross High Jump
Cyclocross Long Jump
Cyclocross Bunny Hop
Cyclocross meets BMX race
Cyclocross Last Straight Dash
Cyclocross Fastest Gate
Cyclocross Longest Skid
Fixed Gear Longest Skid (Cross/Road)
Competitions under the KING/QUEEN OF MTB series:
MTB High Jump
MTB Long Jump
MTB Bunny Hop
MTB 8x Race
MTB Last Straight Dash
MTB Fastest Gate
MTB Longest Skid
Competition under the BMX KING/QUEEN series:
BMX High Jump
BMX Bunny Hop
BMX Last Straight Dash
BMX Fastest Gate
BMX Longest Skid
Fixed Gear Freestyle Longest Skid
Bunny Long Jump
Competitions under the BALANCE BIKE NINJA series:
5 year Old &Under Balance Bike Race
5 year Old &Under Balance Bike Last Straight Dash
5 year Old &Under Balance Bike Relay Race
*IRON MAN/WOMAN Challenge:
The SCBF event is a fun event but the more competitions you enter the more grueling it can be. Some have compared it to those Iron Man/triathlon events. With that in mind we created theh Sugar Cayne Bike Fest IRON MAN/IRON WOMAN Challenge. The rider who accumulates the most total points by the end of the event will be awarded. The more competitions riders do more points they'll accumulate points. All competitions fall under this series.
Only the top male and top female will be awarded in this series.
BIKE RELAY MASTERS:
The Bike Relay Masters is a competition where teams of 4 riders race against other teams of 4 riders in bicycle relay race around the track.
Riders can create their own teams
Each team must have 1 rider between the ages of each of these age groups to form a team  6-9 year old , 10-14 year old, 15-34 year old and 35 &Over. (*Subject to change)
Each team will decide the order that they will compete in
Riders can choose any bike to ride
This event is not part of a sub series
Points from this event will go toward the Iron Man, Iron Woman and 2015 SCBF Series points.
The 1st place team will be awarded
SCBF POINTS:
SCBF series Points are awarded for each SCBF competition. The more competitions you do the more points you accumulate
Every competitor gets a point just for competing in a competition.
The top male and female with the most points at the end of the day will be named the SCBF Iron Man/Iron Woman for this event
Points will be awarded to competitors at every stop of the 2015 SCBF tour. Top 3 riders with the most points at the end of the 2015 season will be awarded (Last stop is New Paltz N.Y. Oct 18th)
The Standard point structure is as follows (**Special point structure for certain events)
1st=10pts
2nd=8pts
3rd=6pts
4th=4pts
5th=3pts
6th=2pts
7-8th=1pt
1 point will be given for 9th place finishes and higher.
Bonus/"Captains Chair" Point=5pts
**High Jump/Bunny Hop Competitions  award 10 points to 1st place and 1 point to the rest
**Last Straight Dash Competitions awards 10 points for 1st place,  8 points for 2nd placeand 1 point to the rest
**Bike Relay Race has the same standard point structure but will award those points to each member of the teams
**Fastest Gate, Longest Skid and Long Jump has the same standard point structure but will award 5 bonus points to the time/distance leaders(+Captains Chair points)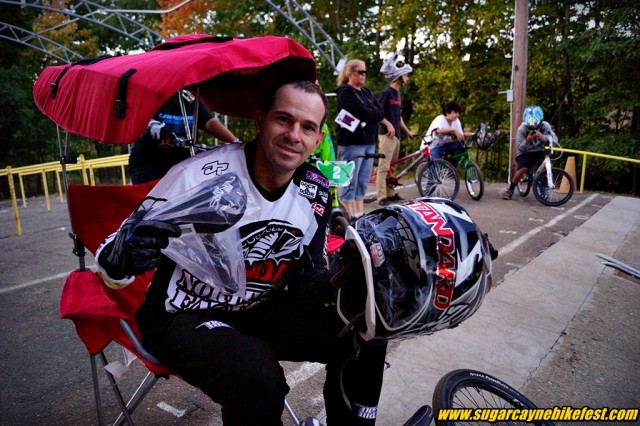 The "Captains Chair": 
The Fastest Gate, Long Jump, and Longest Skid competitions gives riders an opportunity to earn some bonus points
Each competition starts with the youngest rider and ends with the oldest rider in the age group
Whoever had the fastest time/longest distance during the competition get's to sit in the"Captains Chair" until their time/distance is beat and they are dethroned.
Anyone who earns the right to sit in the Captains Chair will receive 5 bonus points.
Bonus points get added to riders total points for the day of the event and also their 2015 SCBF series points total