Round #5 of the SCBF Winter Series is happening this Saturday February 6th at Brooklyn Bike Park and it's gonna be a good one. We'll be adding a high jump competition and the new "Most Manuals" competition to this event.
For the Most Manuals competition riders will have 30seconds to do as many manuals between rollers as they can. The rider with the most manuals wins
The track opens at 8am so there will be 3 hours of extra track time in the morning than the normal hours. Get out early and take advantage of it.
the first 14 riders to sign up will get a number plate bib to put on their bikes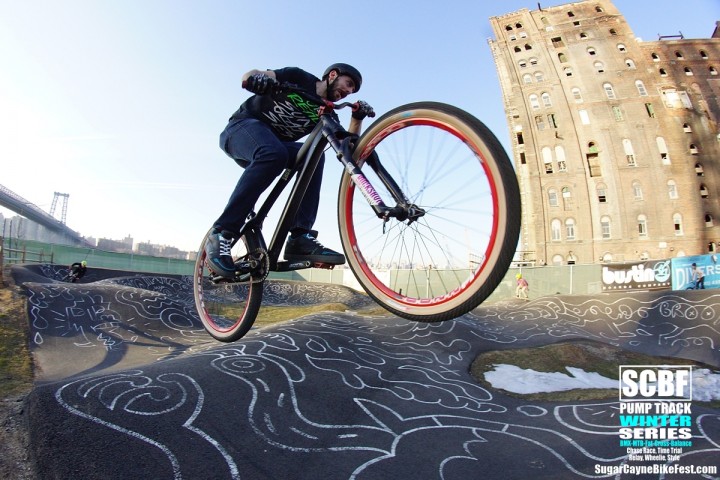 Round # 5 of the SCBF Winter Series.
Competitions at this event:
-Time Trial
-Time Trial Relay
-Best Style
-High Jump
-Most Manuals/wheelies
-Chase Race
Balance Bike Competitions (5&Under Only)
-Time Trial
-Time Trail Relay
-Chase Race
What type of bike??? RUN WHAT YA BRING (MTB,BMX,Road, Cross,Fat, DH, Trials, Citibike)
Age groups:
-Balance bikes (5&Under)
-9&Under
-10-15
-16&Over
Track opens at 8am
Registration from 9am-12pm,
Competitions begin at 12:30pm
Order of competitions
-Time Trial Relay
-Chase Race
-Best Style
-Most Manuals/wheelies
-High Jump
-Time Trial
$10 to ride
$10 to compete on balance bike (5&Under only)
$20 to ride & compete
Number plate awards and prizes
The rest of the scheduled dates for the SCBF Winter Series:
Feb 20th, 27th
March 5th,
March 12th (FINALS)